Search
info@ukpin.com
0207 305 5832




.

PROFESSIONAL PRIVATE INVESTIGATION DIPLOMA TRAINING COURSE SYLLABUS
Module 1: Overview of a Private Investigator
Overview of a private investigator
How do you become a professional pi?
Power and authority
Police officers and detectives
Private detectives
Private investigators
General Instructions
Instructions private investigators undertake
Process serving
Tracing
Status and credit reports
Accident and insurance enquiries
Repossessions
Matrimonial and surveillance work
Qualifications
Important qualities for aspiring Private Investigators
Conditions of work
Working hours
Equipment required

Module 2: Process Serving
Overview of Process Serving
What is process serving?
Two factors to ensure success
Read the instructions
Identify the papers
Sealed envelopes
Checking procedures
Hearing dates
Identification
Evasive people
Non-cooperation
Named persons
Leaving documents
Whether to serve
After service procedures
Permissible times
Permissible places
Imparting information
Verbal Presentation
Destroyed documents
Substituted service
Letter box service
Problems
Types of documents and papers
Affidavits
Process serving at a glance
Tips for successful service

Module 3: Affidavits
Overview of Affidavits
Letter of appointment
Affidavits
Swear an affidavit
High court
County court
Magistrates court
Witness summons
Bankruptcy petition
Winding up petition
High court order
Statutory demand for payment
Substituted service of a statutory demand for payment
Notes on completing affidavits
Getting it right
Court jargon
Word processor
Important points to remember
Module 4: Surveillance
Overview of Surveillance
Introduction
About surveillance
Surveillance tips
Case study
Detailed surveillance
Motor vehicles
Planning
Vehicle surveillance
Foot surveillance
Static surveillance

Module 5: Photography & Video Surveillance
Video surveillance
Photography
Basics of photography
Two-way mirrors
Remote video surveillance
Fibre optics
Keeping records
Discretion

Module 6: Tracing
Overview of Tracing
Client types
Absconders and runners
Long Term absentees
Here but hidden
Accumulating information
Checking Addresses
Covert techniques
Forwarding addresses
Making local enquiries
Doubtful information
Name changes
Employment
Motor vehicles
Databases
Sub-agents
Alternative Methods
Failure
Fees
Dealing with Solicitors
Keeping records
DVLA
Tracing Methodology

Module 7: Missing Persons
Overview of missing persons
Missing persons
Introduction
Missing family members
Money and work
Friends
Morals
Costing
Keep the case open
Probate matters
Summary of tracing missing persons

Module 8: Accident Reporting
Overview of Accident Reporting
Accident reports
Introduction
Check the paperwork - verify the facts
Check the accident report
Interview the driver
Driver (or witness) interview sheet
A note on witnesses
Photographing the scene
Preparing sketch plans
Writing your report
Conclusion
Summary

Module 9: Status Reports
Overview of status reports
Originating instructions
Fees
Status investigations
Procedure
Obtaining instructions
Detrimental reports
Final reporting
Computer Data Agencies
Summary
Module 10: Repossessions
Overview of Repossessions
Morals
Procedures
House repossession
Securing property
Boarding up
Closing down services
Taking an inventory
Mail / post Handling
Final report
Equipment
Motor vehicles
Locating properly
Simple repossession
Dealing with problems
Vehicle on public road
Not in Attendance
Repossessing office equipment, etc
Summary
Repossession Key Points

Module 11: Debt collecting
Overview of debt collecting
Before you start
The licence
Debt counselling and adjusting
Debt collecting
Group account collections
Legality of debtor
Debtor evasive actions
Visiting frequency
Bailiff Duties
Limited companies
Court action
Normal debt collection
Negotiation
Module 12: Legal matters
Overview Legal matters
What is 'The Law'
Authority
Protection
Personal protection
Perjury
Impersonation
Conclusions
Communications
Investigations
Administration
Perseverance
Willingness
Patience
Sense of humour
Professionalism
Business sense
Summary

Module 13: Tools of the trade
Overview of tools of the trade
Equipment needed
Essential equipment
Car
Cameras
Polaroid camera
Video camera
Binoculars
Compact tape recorder
Other equipment
Module 14: Electronic Methods
Overview of electronic methods
Counter Measures
Bugs & Types
Technical breakdown
Frequencies and scope
Legality
Sweeping
Locations
Hidden tape recorders
Overhearing sensitive information
Telephone taps
Other listening devices
Electronic counter surveillance
Electronic de-bugging
The warning signs
What to do next
De-bugging techniques
Physical searches
FM bugs
Action on discovery
Advice, hints and tips on bug detection
Guidelines for debugging

Module 15: Undercover & Covert Operations
Overview of the undercover agent
Description
Stock control
Information theft
Morality issues
Getting the details right
Investigations
Dedication
Observation
Report Writing
Timeframe
Reacting to situations
Risks
Industrial espionage
Corruption
Conclusion
Module 16: Tricks of the trade
Methods, actions and procedures to achieve goals and overcome problems.
Of course, only to be revealed in the training manual.
Module 17: Detecting Lying
Overview of Lying
Detecting Liars
Detecting Body Language & Facial Expressions
Interpreting Verbal Responses
Applying Techniques

Module 18: Data, Information, Privacy and the law
Data Protection Act 1998
Freedom of Information Act 2000
Computer Misuse Act 1990
The Human Rights Act 1998
Telecommunications (Lawful Business Practice) (Interception of - Communications)
Regulations 2000
Wireless Telegraphy Act 2006
CCTV – Closed Circuit Television
How to Comply With the DPA
Useful ICO Publications
Phone Hacking
Blagging and Pretexting
Module 19: Setting Up Your Private Investigation Agency
Types of business - Options
Tax & VAT considerations
Overheads
Investigative Equipment - Options
Start-up Costs
Assignment Costs & Estimations
Charging - Fees and Hourly Rate
Insurance & Indemnity
Naming Your Agency
Employees and Sub-Contracting

Module 20: Marketing and Promotion
Getting Your First Clients
Advertising and Promotion
Mail Shots and Print Media
Direct Selling
Potential Market Breakdown
Approaching Solicitors
Website and Internet Presence
Module 21: UKPIN Networking
System Overview
How to Sub-Contract
Agent-to-Agent charging
Exploiting the Network Potential
Training with and being a member of the UKPIN will give you success.
To read more about our home study training course - Click here
Act now and have a great career by becoming a private investigator with the UKPIN Training Course.
Become A Private Investigator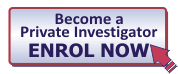 .
.