Search
info@ukpin.com
0207 305 5832




.

EXAMPLE OF INVESTIGATIONS AND ENQUIRIES
An interesting and amazing variety of lucrative work
Most people have no idea of extensive range of the work involved in the private investigation industry, with most only knowing about the limited things that they see on the TV and in films.
This could not be further from the truth for today's highly professional and well equipped investigator.
The working lives of Professional Private Investigators and Private Detectives involves them in a myriad of investigations and enquiries, both at home and overseas. Daily on the UKPIN Network many of the investigation examples shown below can be seen being passed from member to member up and down the United Kingdom and internationally.
Investigation and Enquiry Examples - but by no means all
Accident Claims (Non RTA, PL or EL)
Adoption
Anti-corruption
Applications - Betting Office Licence
Applications - Gaming Licence
Applications - Liquor Licensing
Applications - Miscellaneous
Applications - Planning
ASBO - Anti-Social Behaviour Order
Asset Discovery
Background checks
Bailiff Assistance
Bankruptcy
Blackmail
Business Interruption Claims
Child Custody
Civil Liability
Civil Proceedings - Claimant
Civil Proceedings - Defendant
Criminal - Defence
Criminal - Appeals
Criminal Liability
Close Protection
Competitor Intelligence
Computer Crime
Copyright Infringement
Corporate Security
Counterfeiting
Credit Card Collections
Credit Vetting
Creditor's Representative
Crime Prevention
Criminal Defence
Criminal Appeal
Crisis Management
Debt Recovery & Collection
Director/Staff Loyalty
Divorce
Drug Testing/Screening
Due Diligence - Personal & Corporate
Electronic Surveillance
Electronic Surveillance Counter Measures
Employers Liability Claims
Expert Witness
Fingerprinting & examination
Financial
Forensic - Accounting
Forensic - Science Services
Forensic - DNA Testing
Fraud
Fraud Prevention
Fraudulent Claims
Genealogy
General - Investigations
General - Enquiries
General - Surveys
GPS/GSM Tracking - Freight & Goods
GPS/GSM Tracking - Plant
GPS/GSM Tracking - Vehicles
GPS/GSM Tracking - Minors
Grey Market & Parallel Trading
Honey Traps
Industrial Espionage
Information Security
Internal Loss (Shrinkage)
Internet - Profiling
Internet - Investigation
Internet - Email Tracking
Interviewing (inc. multi-lingual)
Lecturing
Life Insurance Claims
Locating Missing Animals
Locating Missing Property
Locus Reports
Marine Claims
Matrimonial
Missing Persons Enquiries
Mortgage Protection Claims
Mystery Shopping
Nanny Backgrounds & Bona Fides
Obtaining Statements as to Means
Parallel Trading
Patent Infringement
Paternity
Peace of Mind
Photography
Plan Drawing
Pet Detective
Post Adoption
Pre-home Purchase
Pre and Post Employment
Private Medical Claims Investigation
Probate Enquiries
Process Serving
Product Contamination
Professional Indemnity Claims
Property Claims
Public Liability Claims
Recovery of Abducted Minors
Repossession - Vehicles & Heavy Plant
Repossession - Aircraft & Boats
Repossession - Land, Property & Homes
Risk Management
RTA - Injury Claims
RTA - Non-Injury
Scene Examination - Criminal
Scene Examination - Road Traffic
Scene Examination - Accident
Scene Examination - Personal Injury
Security - Consultancy
Security - Close Protection
Security - Electronic
Security - High Value Transportation
Security - Manned Guards
Security - Personal
Security - Property
Security - Surveys
Security - VIP Protection
Seminars
Staff Training Methods
Statements - Taking
Statements - Testing & Evaluation
Status - Company
Status - Individual
Status - Pre-sue
Surveillance (Physical)
Surveillance (Remote)
Surveillance (Technical)
Traffic
Tenancy
Test Purchasing
Theft Claims
Theft (non-insurance)
Theft of Goods in Transit
Tracing - Assets
Tracing - Beneficiaries
Tracing - Individuals
Trademark Infringement
Translations
Travel Claims
Travel Insurance Claims
Undercover Operations
Video filming
and the list goes on.....

International Investigations
With the aid of all the modern technology available today and with the use of the internet most Professional Investigators are now more than capable of conducting most of the above enquiries anywhere in the world, either themselves or by instructing overseas agents to act on their behalf.
Conducting national and International investigations on behalf of local clients is now a part of the professional Investigators normal day.
Investigations on the UKPIN Network
National and international enquiries appear daily on the Network which are often sub-contracted between members.
If you would like to be part of this fascinating and rewarding profession sign up for the UKPIN Private Investigators Training Course now: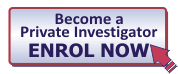 .
.